Hotel Studios Paradise in kefalonia are located at a particularly preferential area of natural environment, which in combination with our settlements and services represent your best choice for vacation in Kefalonia.
Studios Paradise are consisted of two buildings, offering double, triple rooms and Apartments (four beds), providing to their guests comfortable and pleasant residence.
Building A`offers:
Double rooms (ground floor) with garden view (lawn and flowers) or pool view.
Apartments (first floor) from side to side with sea view, green area view and pool view.
Building B΄ offers:
Triple rooms (ground floor or first floor) Comfortable luminous, from side to side, with sea view, pool view and beauty of nature.
Rooms and Apartments offer:

Full equipment of kitchen vessels
Both buildings are located within the same pale courtyard where you will see: lawn, trees, flowers and you will find: swimming-pool, outside showers, toilettes, umbrellas, deck chairs, small tables, chairs, bar.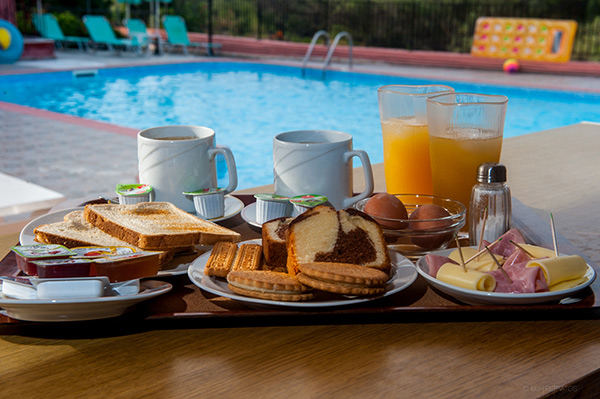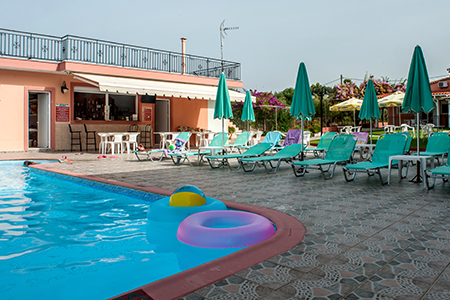 Serves breakfast. The breakfast which we offer at Studios Paradise, is based on products of Kefalonian land.
Enjoy your breakfast at your balcony or in the garden with the grass, next to the pool.
At the outside area of the bar, which is tent lodged, there is a TV set.
We offer exclusive open parking area (outside the pale courtyard of the buildings and other settlements).

We also have a lending library and board games (backgammon, chess, cards etc).
Pets not allowed.