Kefalonia
Every village is a history, every corner is a memory, at the Island with the deep Blue partition, the great contrasts, the green of nature, dense flora, deep green firs of Ainos, woody slopes, golden sandy beaches that they will excite you.

In the largest island of Eptanisa, Cephalonia that it distinguishes for the historical course of many centuries and her infrequent beauty and that is found in the exit of Patraikoy trick between Zakynthos and Lefkada.
At Kefalonia you will come:
By airplane from Athens and abroad. The summer and there is a flight from Zakynthos.
By bus from Athens via the ports of Patras and Kyllinis.
By ship
from Patra to Kyllini
from Kyllini to Poro
from Kyllini to Argostoli
from Astako Aitoloakarnanias to Sami
from Skinari Zakynthou to Pessada
from Nydri and Basiliki Leukadas to Fiskardo
from Ithaki to Sami
Kefalonia is linked with Italy with line Patra - Sami -Igoumenitsa - Corfu - Venice.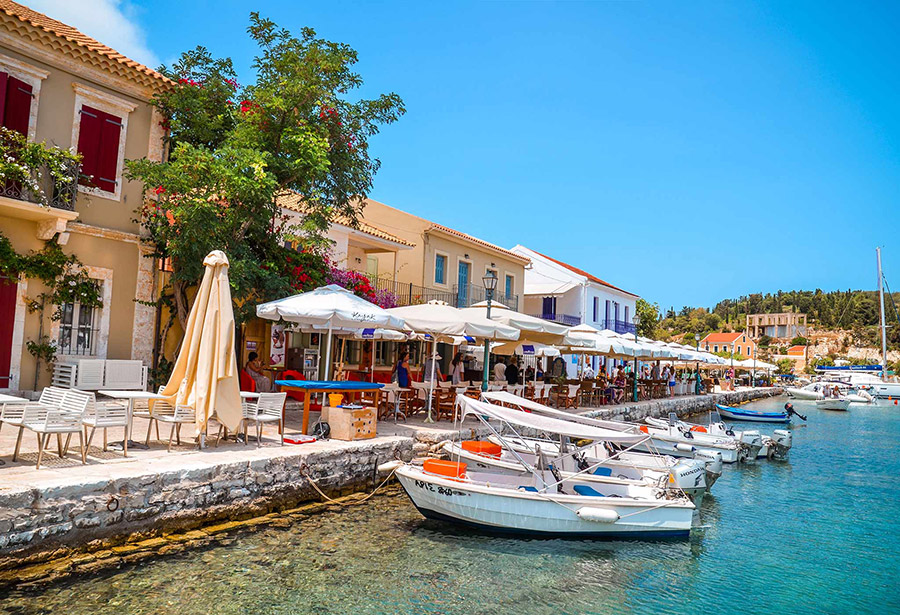 At Kefalonia you will see:
The sinks, Aghios Gerasimos cave and his Monastery, Aghios Andreas Monastery, Aghios Georgios fort, Drogarati cave, Melissani lake, the unique coast of Myrtos and decades other sights.
Traditional Foods
At the local cuisine try the «Kefalonia pies» with top the mince pie as well as artichoke'pie, greens-pie, cheese-pie. Also, the Island is distinguished for the garlic sauce or else aliada, feta garlic delicacy, stuffed tomatoes and of course.
You will taste the excellent wine (Robolla).

You will entertain yourselves with the famous arias and serenades of Kefalonia.
You will buy thyme or fir honey, oil, feta cheese, mantoles, nougat, quince-paste, aromatic plants, needle-works and wine from the huge variety of the Island.